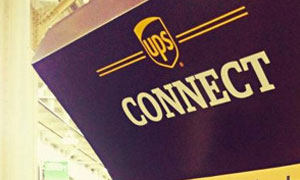 UPS Connect
Be the Box @ TechCrunch SF
CHALLENGE: UPS Connect, a scalable logistics program designed to support new businesses, wanted to connect with the StartUp community. They turned to us after a disappointing performance at TechCrunch NYC where confused attendees saw them as irrelevant brown suits only interested in the IBMs of the world. They asked us for a booth at TechCrunch SF.
SOLUTION: Instead of a booth, we saw the opportunity to create a new voice telling the story of a company that "gets" the David vs Goliath culture. A brightly colored hangout created from over-sized delivery boxes, THIS END UP was a strategically designed journey with escalating touch points leading to a deep-engagement open theatre where jeans-clad UPS Connect logistics specialists and ImageThink graphic recorders captured attendees' elevator pitches. Word-of-mouth awareness spread organically and exponentially.
With over 100+ activations per day and a viral social media presence, not to mention a few large conversions in the works, the experience was an out-of-the-box success.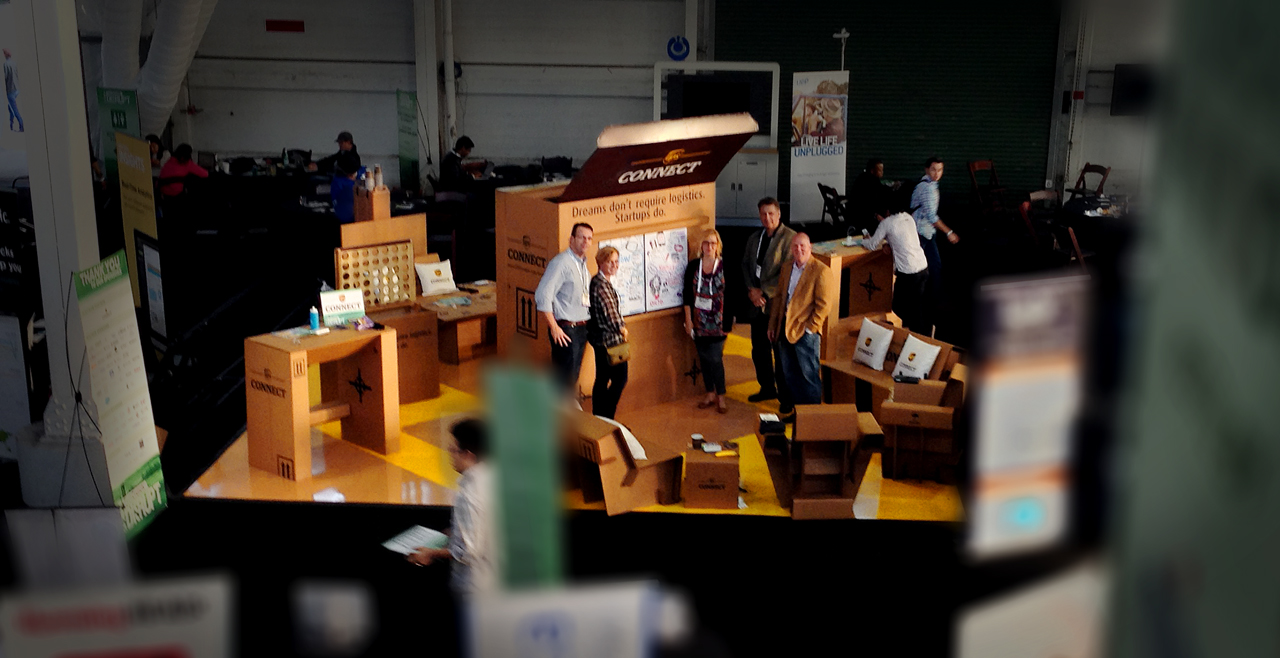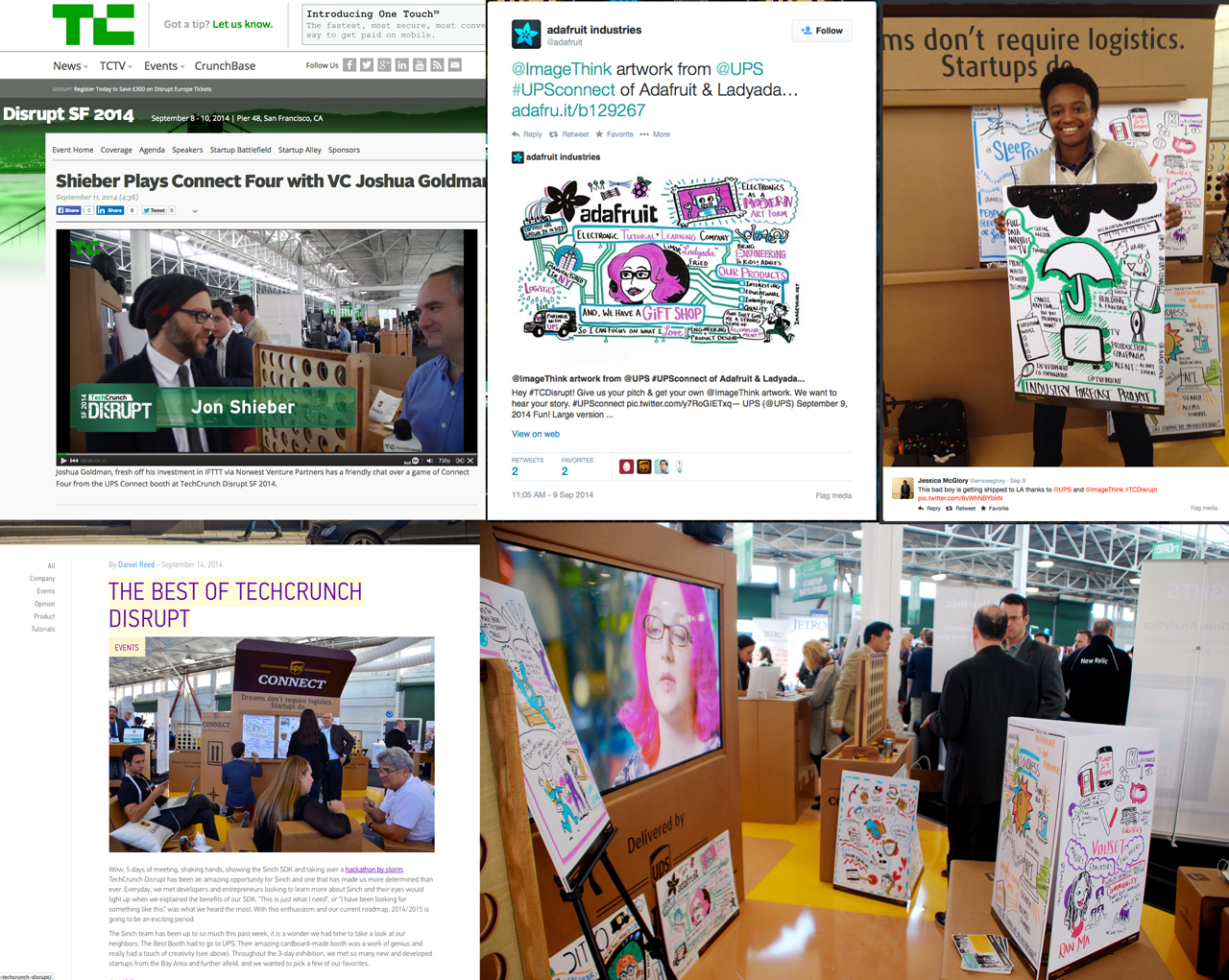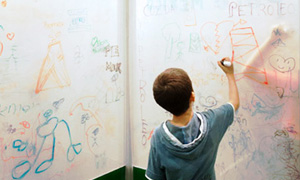 PEMEX
Not a booth at Expo Chiquitines
CHALLENGE: PEMEX, a national energy company, was running a year-long international C-level program designed to freshen a tarnished reputation. Their top priorities were to evoke national pride and be seen as thought leaders of innovation. As a one-off, they invited us to create an educational childrens booth at Expo Chiquitines, 3-day event filled with hi-energy pop stars, video games, candy and donkeys.
SOLUTION: Instead of a classroom education, we saw an opportunity to create an authentically fun journey. Instead of a single booth, we envisioned a program that would continue to elevate the brand well beyond the expo. "Climbing to New Heights" was the anti-booth—a playground made from petroleum byproducts rising high above the fray. Expo Chiquitines would serve as a launch pad for a country-wide program of branded playgrounds, gamified toy PEMEX trucks and spokespeople from sports and teen entertainment.
Although enthusiastically received by the client, circumstances required we produce a simpler journey. With a two-week turnaround, we scaled back on production but not on messaging and fun.
The revised booth not only won Best In Class, but it surpassed expectations eliciting deep emotional responses from parents and former employees while their children played.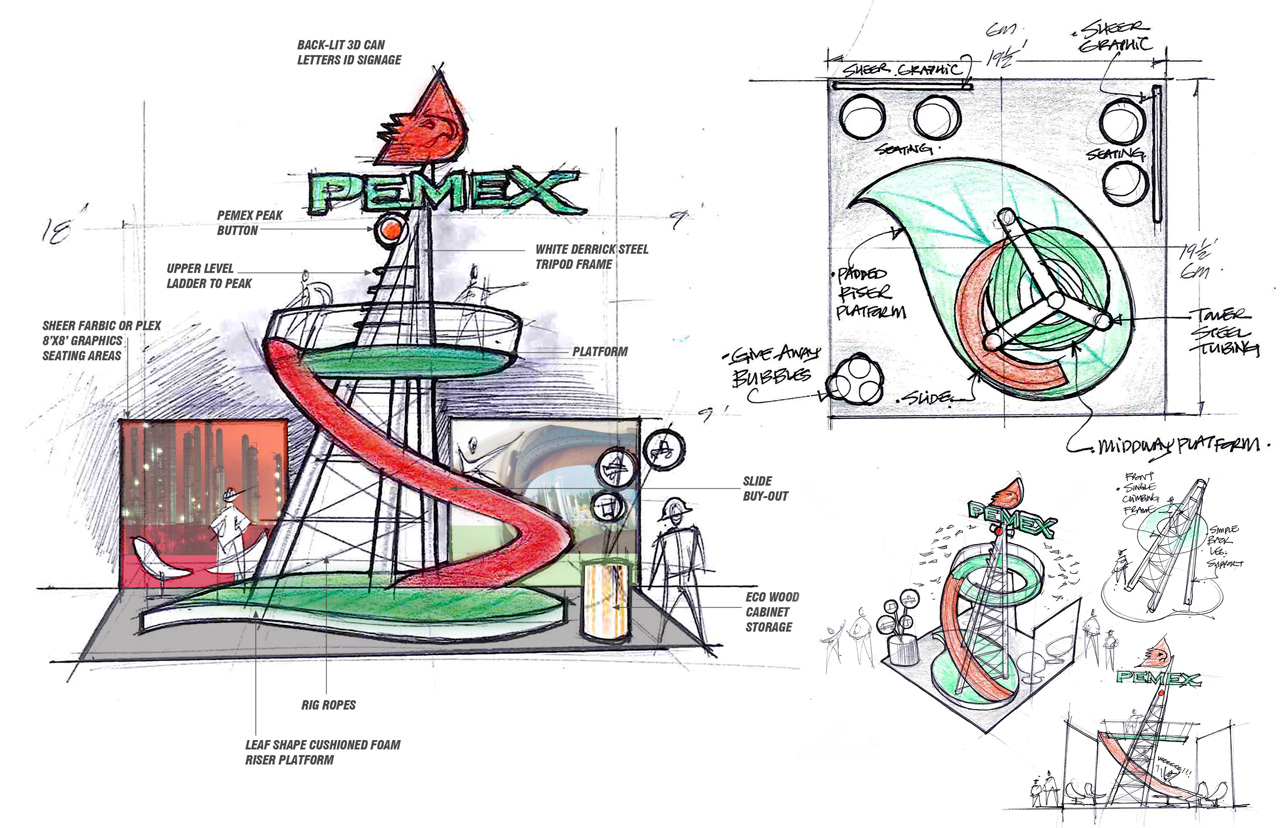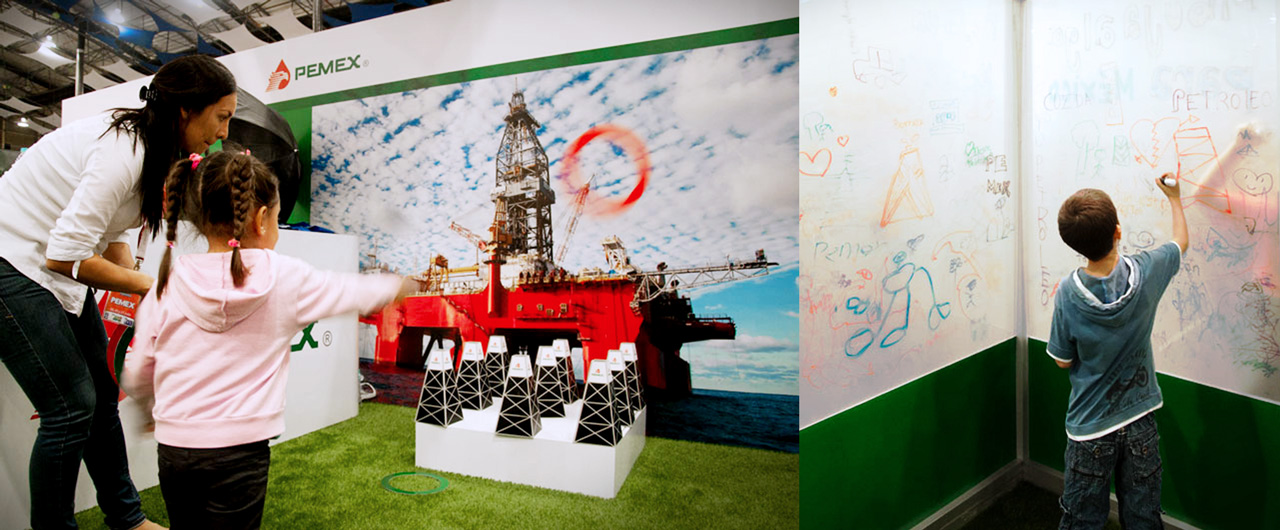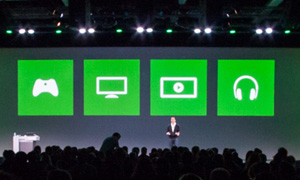 MICROSOFT
Buckle up for START FY15
CHALLENGE:The START FY15 international sales conference was filled with breaking news beyond new products including the Nokia acquisition and Microsoft's new CEO.
SOLUTION:Short-circuit the usual with an emotionally immersive General Session. At the heart of a five-day global sales conference, my role was to script, design and oversee all big-screen visuals for a rockin' day of product launches using a curved 180' x 20' screen, Coolux Media Systems Pandora, a team of designers, animators, editors, lighting designers and a video production crew.
Everyone did a spectacular job, the opening movie was mind-blowing, the animated visuals that supported and linked the presentations inspired on message, and, then, what took a couple of months of planning and creating and five days of installation disappeared in three hours thanks to an amazing breakdown crew.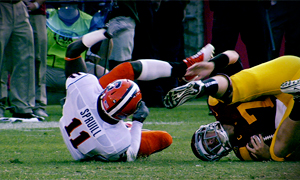 FOX SPORTS
Successful b2b movie & animated
keynote resulting in launch of
Fox Sports 1
CHALLENGE: Though brash, bold and balls-out, Fox Sports had to win NASCAR's approval before they could launch the Fox Sports 1 channel.
SOLUTION: NASCAR's founder, Bill France, Sr., was known for saying it's better to be in 2nd place—it makes you work harder. We wanted to connect to that passion, looked at Fox's beginnings and found gold... in all the naysayers... who were wrong. Why not wear their rejection as a badge of honor? We pulled negative quotes from the major TV stations and laid them out in big bold type at the front of the presentation to kick-off a two-fisted pitch which began and ended with ear-splitting action-packed movies that shook the walls of News Corp.
Fox Sports 1 was successfully launched in 2013.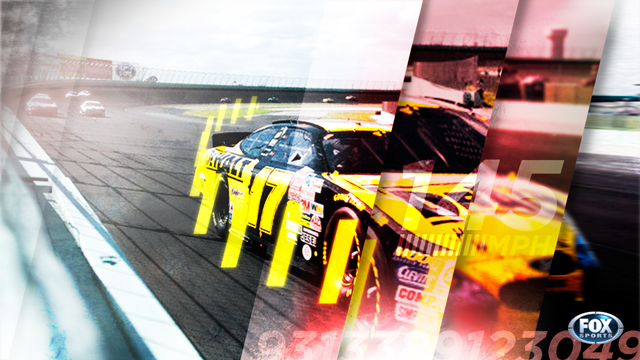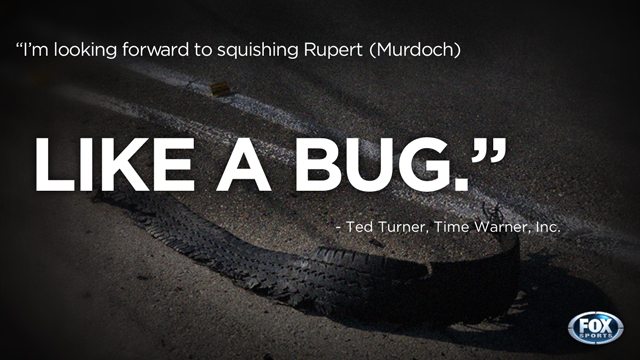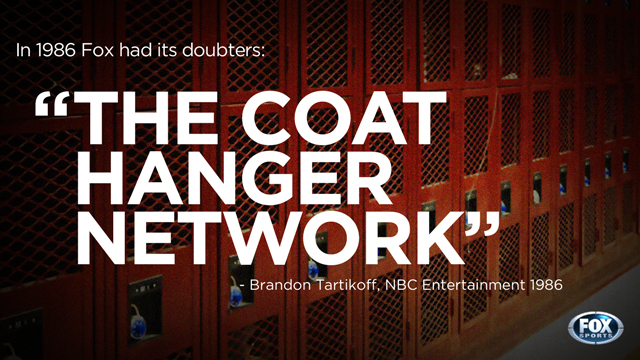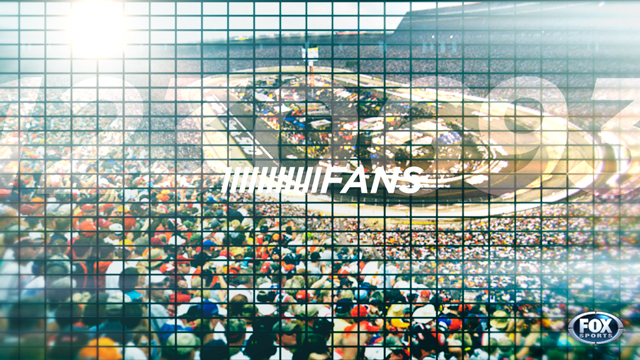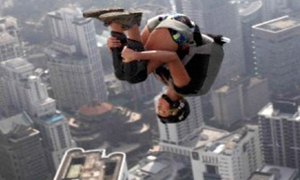 salesforce.com
Pitch for an experiential event
designed to invade NYC
CHALLENGE: salesforce.com's cloudforce conference was already a very successful international series of inspirational conventions. They were looking for something different—a change of venue or event length. When we began our explorations, we knew we didn't want to simply make variations on the traditional model of a hotel with booths and a big room.
SOLUTION: Aim for an experience that embodied how salesforce.com's technology was able to break down the barriers of communication within and between businesses in order to create successful collaborative environments in the cloud. We looked for unexpected venues—neighborhoods that were known for specific types of business, open parking structures with big vistas, Yankee Stadium—that would strip away attendees' preconceived notions of what a conference was supposed to be. Streets were transformed into open-air hotel lobbies replete with red carpeting, comfy armchairs and oversized table lamps. The confines of interior spaces were erased with movable floor-to-ceiling projections of natural vistas.
Instead of beginning with everyone together, we started the event with small groups to address specific targeted concerns. With digital, second screen, interactive environments, and real-time micro sites, the conference became a game with teams and billboard-sized scoreboards. Attendees would learn the power of salesforce.com by using it in competition rather than listening to a lecture.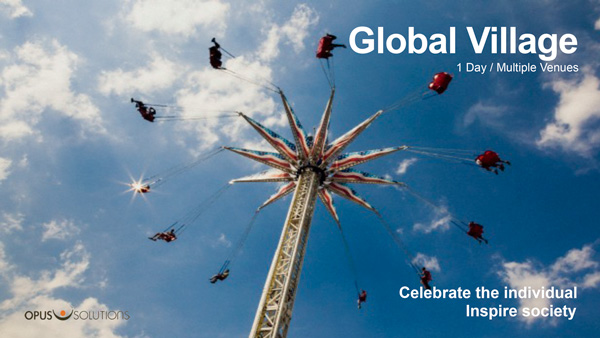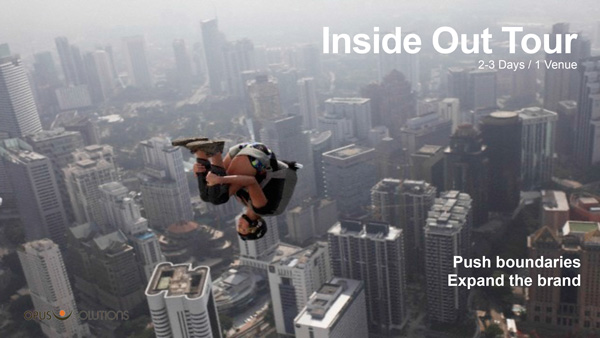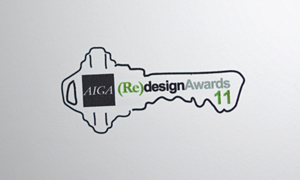 AIGA
Two promotional animations
for the L.A. Charter's first design competition
CHALLENGE: With the belief that designers can make a difference towards helping our planet remain healthy, the American Institute of Graphic Arts, Los Angeles, was set to host its first design competition, "The (Re)design International Design Competition," honoring sustainability practices in design. They needed to inspire designers across the globe to submit.
SOLUTION: We saw the opportunity to bridge cultural differences and appeal to the creative spirit by creating a series of off-the-wall shorts that took us on a journey into the innermost workings of a designer's imagination. The combination of live-action, stop motion and traditional animation playfully expressed the very tactile way a designer's imagination is inspired by the world around them. At the heart of each journey, we discover the love for our planet embodied by a dancing grizzly bear, a firefly living in a box of stars, and an octopus tap dancing with a monkey.
Featured on every AIGA chapter's homepage and international members' sites, the spots were a huge success garnering much attention in social media and blogs and, most importantly, resulted in a surge of submissions.
"(Re)engage"
client: AIGA (Association of International Graphic Artists)
director: Matthew Reichman
co-producers: Michael Fusske & Katherine Ferwerda
writers: Katherine Ferwerda, Michael Fusske, Matthew Reichman
lead: Katherine Ferwerda
cinematography: Matthew Reichman
animation: Matthew Reichman
editor: Matthew Reichman
sound design: Stephen A. Tibbo C.A.S | Tibbosound.com
acore: John Montgomery | johnMontgomeryDrums.wordpress.com
"(Re)ignite"
client: AIGA (Association of International Graphic Artists)
director: Matthew Reichman
co-producers: Michael Fusske & Katherine Ferwerda
writers: Katherine Ferwerda, Michael Fusske, Matthew Reichman
lead: Kwame Dow
cinematography: Ken Glassing & Matthew Reichman
animation: Matthew Reichman
editor: Matthew Reichman
sound design: Stephen A. Tibbo C.A.S | Tibbosound.com
score: John Montgomery | johnMontgomeryDrums.wordpress.com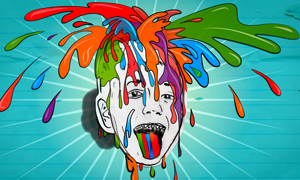 OTTER POPS
Animation rebrand of the famous Southern California popsicle
CHALLENGE: Already one of the most famous freezies in Southern California since 1970, they had a huge fan base spanning the college frat house circuit to sentimental retro Facebook pages, but not in the youth market. Now, after 40 years, they wanted to expand into the rest of the country, yet they were stuck in the prim tropes of 1960s advertising—the Otter Pop stars spouted ad jingles, wore berets and striped French sailor shirts. The colors and designs had never been revisited.
SOLUTION: The Otter Pop stars lived in a world completely unlike the sensory-laden world we live in, today. So we created a joyous, irreverent kid as the new Otter Pops mascot. Then, we developed a series of very messy cartoon ads and animated spots with surreal Flavor Rivers, edible flowers, lemon bees, strawberry hills and, rock music that made you want to dance, and all coming together in a final crescendo of flavors pouring out of the top of our mascot's head and down his deliriously juice-stained face.
The spots ran on regional TV and screens on traveling Otter Pops trucks traveling to fairgrounds and big tent events throughout the midwest.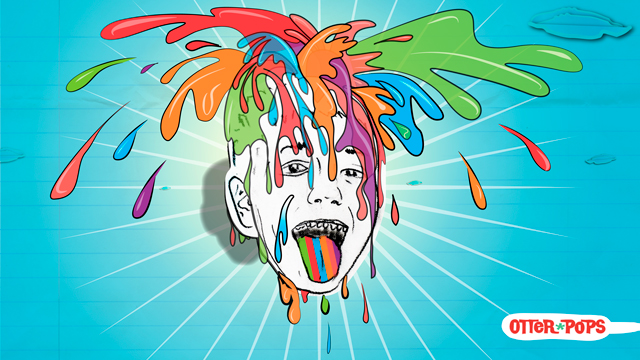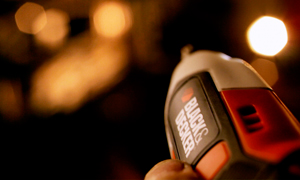 BLACK & DECKER
Two innovative new tools
Two 30-sec spots
We were invited to create a spot for Black & Decker's launch of a new, easy to use paint sprayer. So we ruined a perfectly white fence... Then Black & Decker asked us to create a spot for the launch of their innovative take on the screwdriver... So we shot a guy taking a shower.
"You Be The Man"
client: Black & Decker
agency: Poptent
director: Matthew Reichman
writers: Anthony Wells, Matthew Reichman
producer: Allison Pultz
lead man: Mark Newman
lead boy: Tyan Lisman
cinematographer: Tom Lembcke
editor: Matthew Reichman
sound design: Stephen Tibbo, A.S.C.
music: Jarvis Davis
"Sleight of Hand"
client: Black & Decker
agency: Poptent
director: Matthew Reichman
writers: Matthew Reichman, Anthony Wells
producer: Teresa Bara
lead: Christopher Tod
cinematographer: Ken Glassing
1st A.C.: Dawn Shim
grip: Michael Roddy
editor: Matthew Reichman
sound design: Ryan McBride
colorist: S.P. Arkles, Technicolor
hair & makeup: Alexandra Useche
wardrobe: Alycia Belle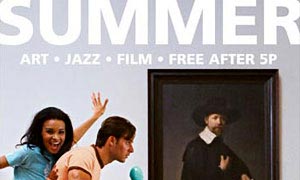 LACMA
Groundbreaking campaign promoting the museum itself and introducing their first TV commercials
CHALLENGE: The Los Angeles County Museum of Art has the largest collection of art west of the Mississippi. But the museum itself was stuck in the 20th century and needed to be in the 21st.
SOLUTION: Instead of looking at this as a rebrand, we saw it as an opportunity to fulfill the institution's original promise to serve the public. We re-visioned all means of communication from coffee mugs to TV commercials and focused on making the museum more accessible and user-friendly. Recreating the Members Journal was just one example. From one quarterly publication, we created two separate touch points—a weekly rag with a playful attitude, timely news and a very legible event schedule (which we gave away in stacks to everyone in the L.A. basin), and an Art Forum-inspired monthly magazine with in-depth interviews with the curators and a stunningly beautiful centerfold of ready-to-use art drawn from LACMA's vast collection. Our transparent desire to be useful and engage did not go unrewarded.
Not only was there a clear jump in attendance and loyalty, but we received a flood of photos of posters in cubicles, kitchens, and coffee houses. The Up All Night Saturdays became the hot venue for singles to connect. And the museum stores were musts during the holidays.
"SUMMER"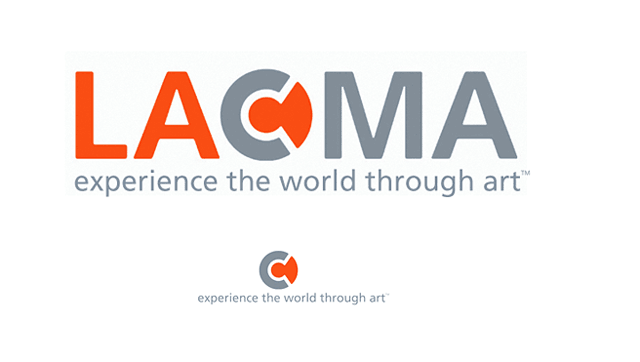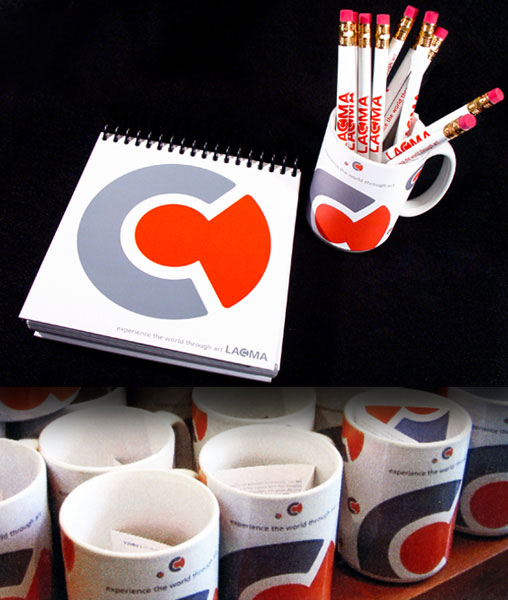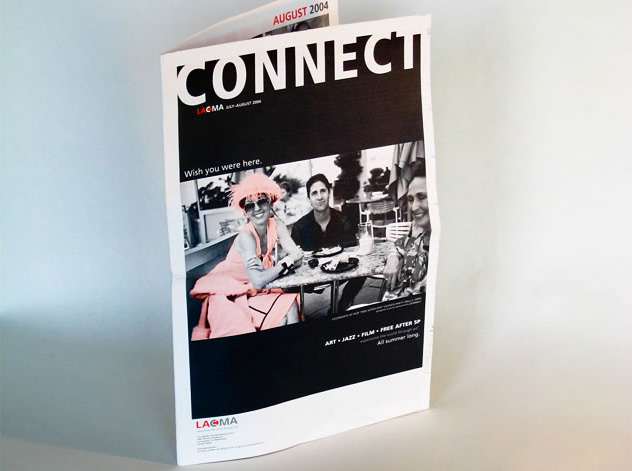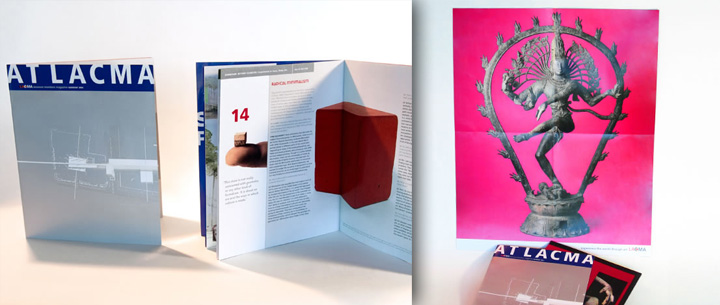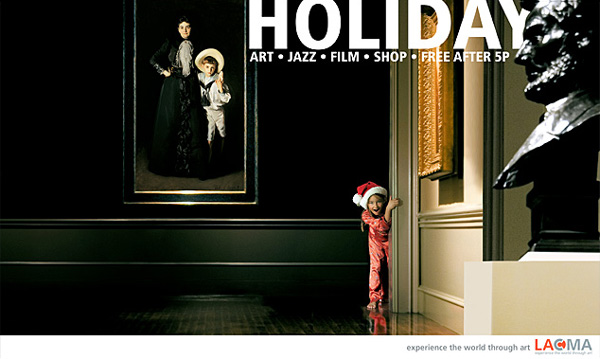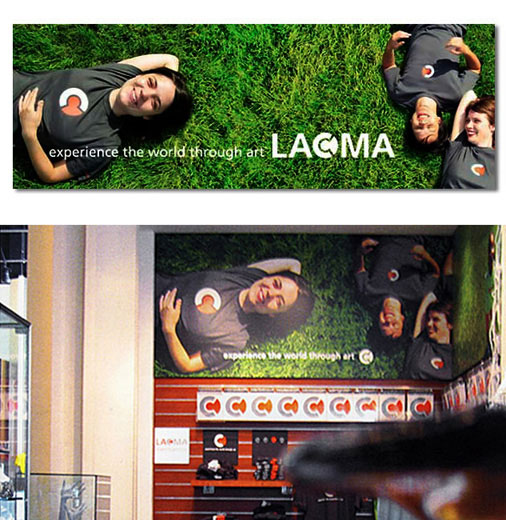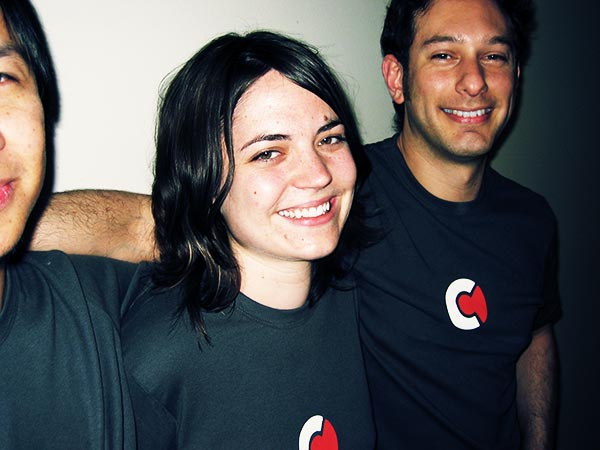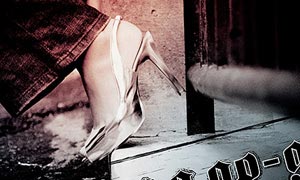 TORRID
Launch of client's denim program including new online video strategy
CHALLENGE: A national plus-size jr. sportswear subsidiary of Hot Topic, Torrid already had an incredibly strong loyalty base, as the never-ending letters of gratitude from both daughters and mothers attested to. The company was poised to expand their footprint into even more malls across the country, but, in their rapid expansion, they had lost their authenticity.
SOLUTION: We immersed ourselves in the dreams and struggles of plus-sized girls to understand the social challenges they faced. We all want to feel welcome at the table. So we turned away from the artifice of the fashion world to focus on the real girls who loved Torrid. First, we convinced Torrid to invite the much-acclaimed photojournalist, Colin Finley, to capture the sort of images the girls might take of themselves to share with friends. Then, we replaced sexiness with self-confidence, and made it a rule that all shoots would include people of color and boys(!), and no young woman would be photographed without friends.
Our subsequent launch of "Denim a go-go" and their first fragrance were both huge successes.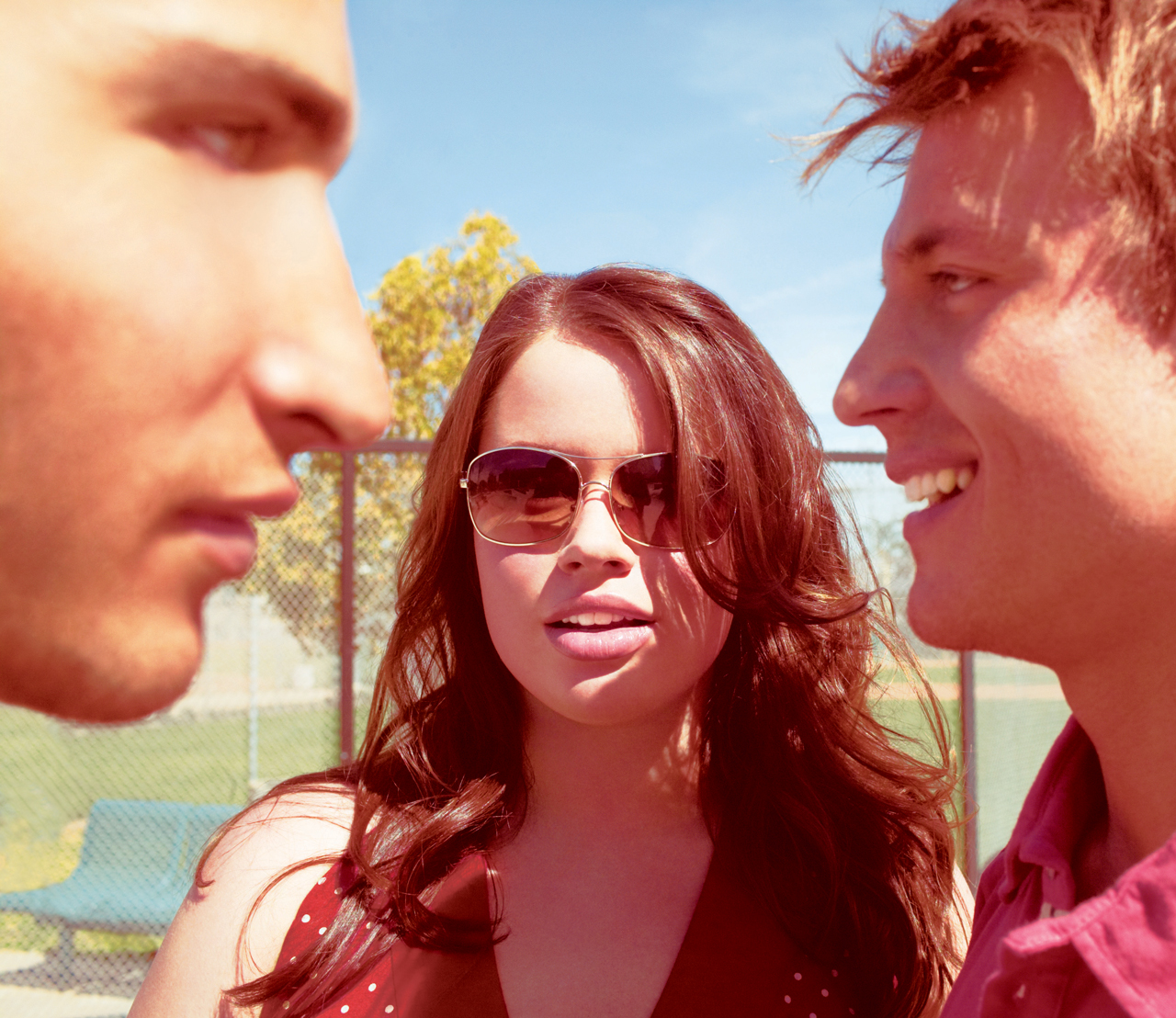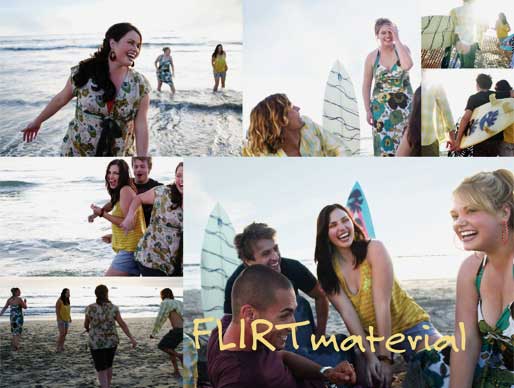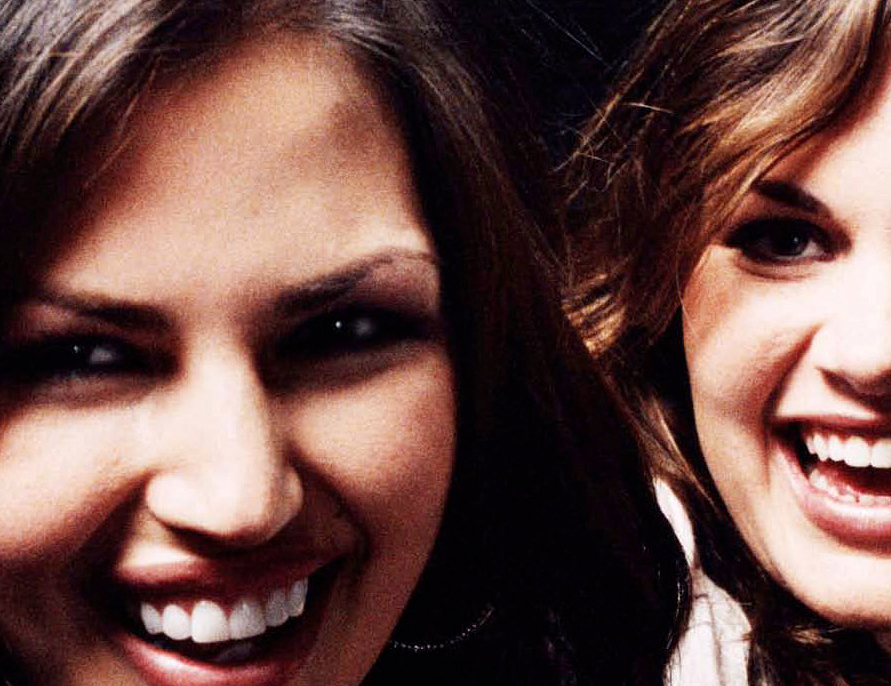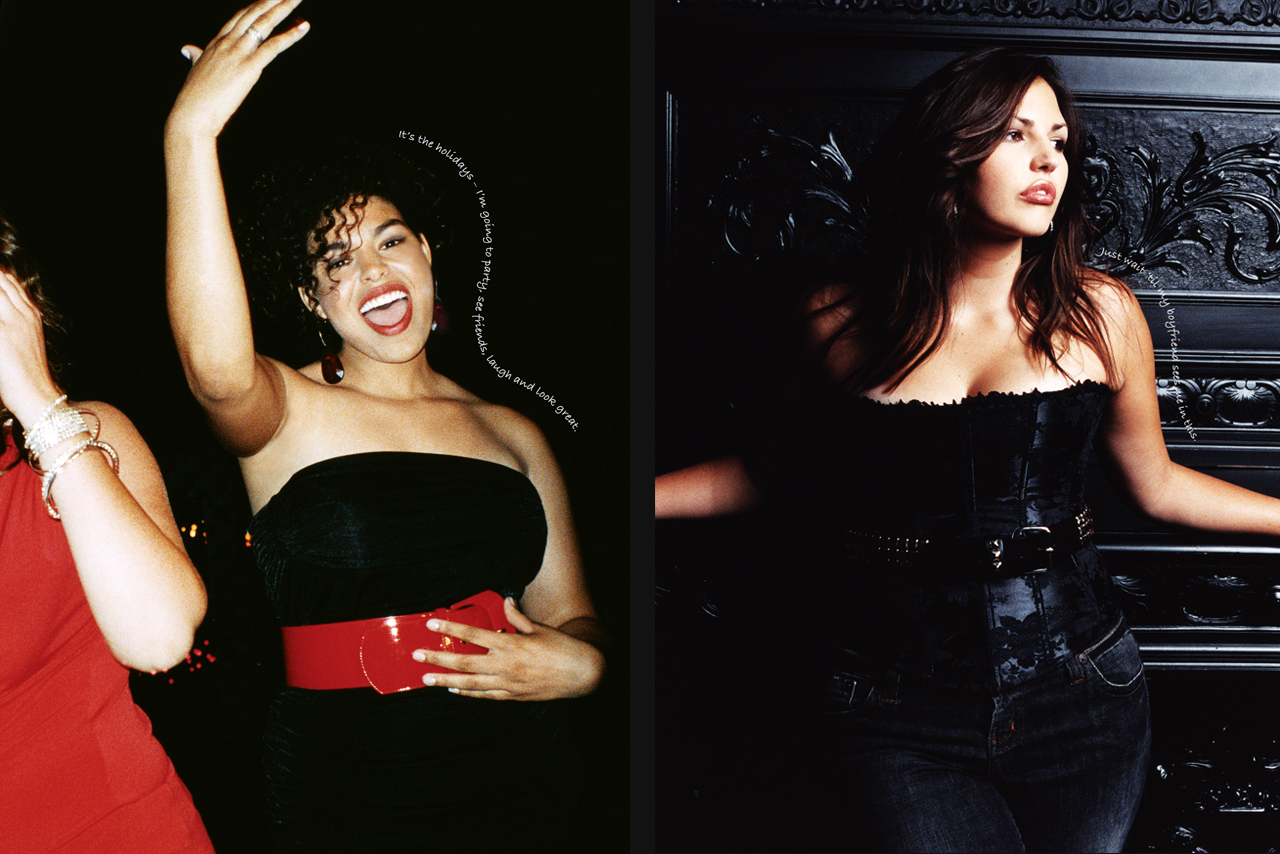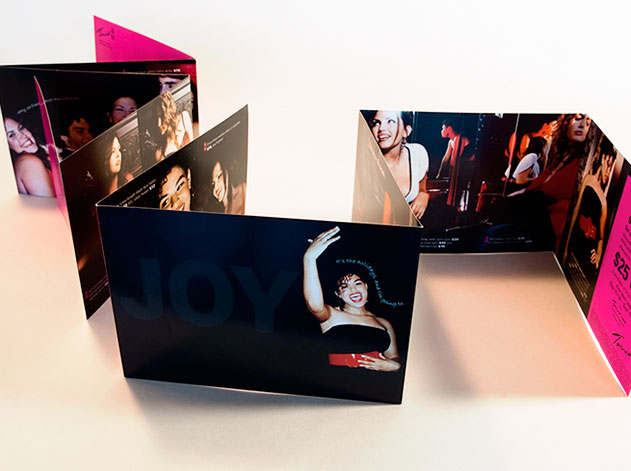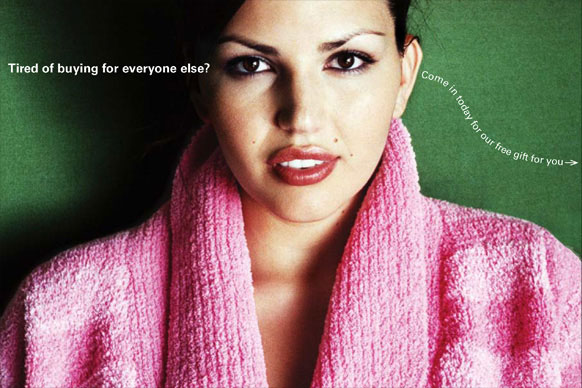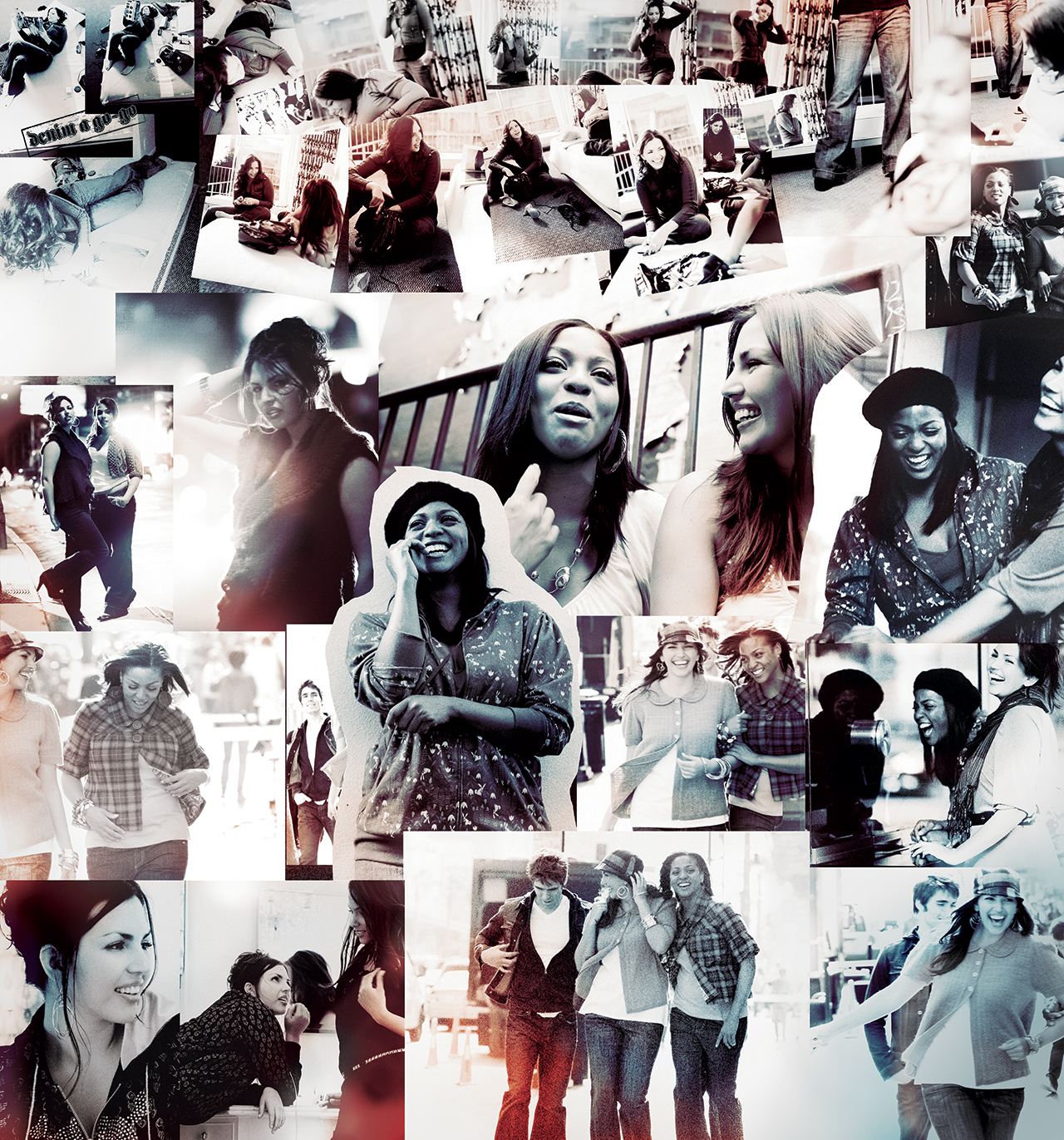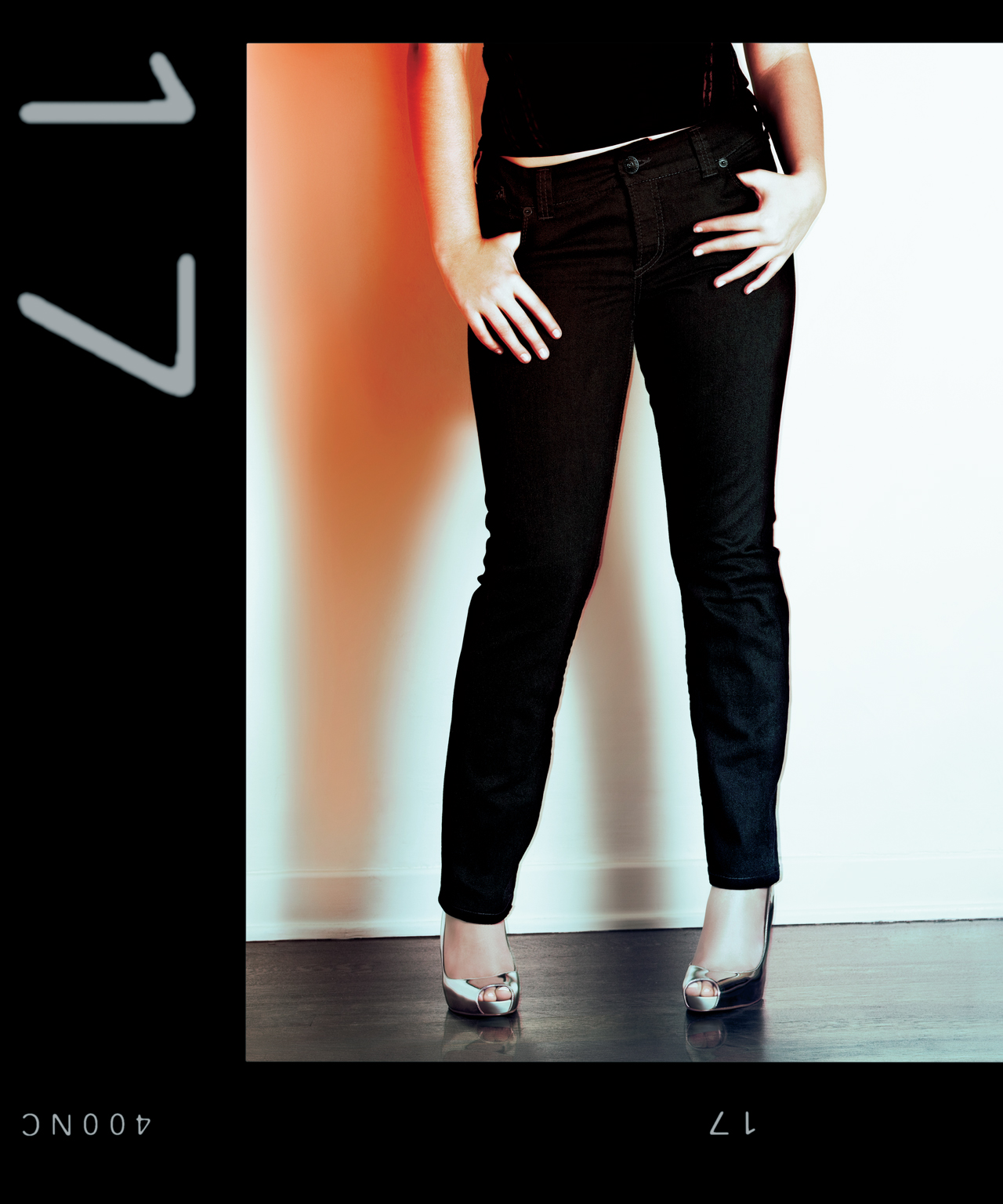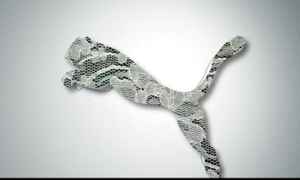 AFIFEST
/PUMA
Best Thank You
The head of Marketing asked me to design a hallmark-style "Thank You" card for the festival's premiere sponsor, PUMA. I looked around at all the people who were working at the festival and saw the gleams in their eyes when PUMA invited them to pick the style and color of their favorite PUMA shoe. The people behind the scenes come in as many flavors as there are job descriptions—passionate, flippant, silly, ornery, mischevious, caustically neutral—and they've all dedicated their time and energy to ensure the festival 's success. When the shoes arrived, the excitement was palpable, and I realized that capturing the personalities and pairing them with their favorite shoes would be the very best thank you. The shorts were such a success that we ran them in front of every film and in theatres throughout the L.A. Basin.
PUMA was very happy, distributed them internally, and volunteered to be the premiere sponsor for the following year.